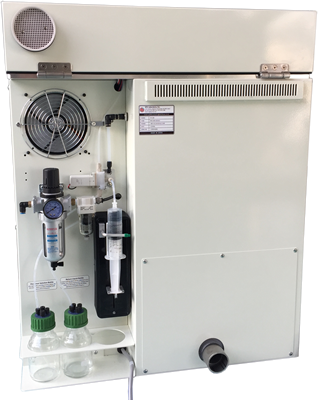 New Features
Built-in exhaust pump with input and output dust filters. (Exhaust air may contain chemical vapor. External scrubber must be used to clean exhaust air)
Easy setting of operation parameters using front panel keypad and LCD.
Up to 9 sets of different film making recipes can be stored in the memory.
Can be control remotely through a personal computer. (PC is not supplied as a part of the machine)
Spray rate and volume in each spray, and total volume are displayed on LCD.
Automatic initializing and ending functions: removes air from the tubes at the beginning and drain chemical at the end. Automatic cleaning function: assists user to clean the system.
Substrate and heater temperatures, and atomizing air pressure are displayed on a separate LCD. (KV-100 continuously monitors those parameters and gives warning messages if deviate from preset range.)
Heater is controlled by cascade PID controller with 2 temperature sensors. Five different sets of PID values can be stored for different temperature regions.
Applications
Porous and dense thin film formation Transparent conducting oxide films (ITO, FTO, AZO, ATO etc.) Other functional films (TiO2, ZnO, SnO2, Cu2O, SnS etc.)