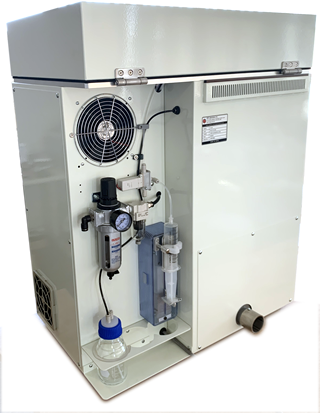 New Features
Built-in exhaust pumps with input and output dust filters. (Exhaust air may contains chemical vapor that should go through a laboratory fume hood)
Easy setting of operation parameters through keypad and LCD.
KV-25 can be controled remortly using Bluetooth comunication with PC software.
Up to 10 sets of different operation parameter (programs) storage capacity.
Included a real time liquid flow monitoring system to display actual spray volume in each spray and total volume sprayed.
Automatically fill tubes (remove air) when new chemical bottle connected. Clearing tubes by returning liquid can be done by pressing a single key, before disconnecting chemical bottle.
Substrate and heater temperatures, atomizing and liquid air pressures digitally display on the LCD. (Continuously monitor those parameters and give warning message if deviate from preset range.)
Heater controlled by cascade PID controller with 2 temperature sensors. Five different set of PID value can be stored for different temperature regions.
Applications
Porous and dense thin film formation Transparent conducting oxide films (ITO, FTO, AZO etc.) Other functional films (TiO2, ZnO, SnO2, Cu2O, SnS etc.)